Do any of these empty
promises sound familiar?

I'll sell your home or I'll buy it!
I have a buyer for your home.
I'm the neighborhood specialist
Since your Home Expired off the market, you've probably received numerous calls from real estate agents all making the same empty promises
The only result that matters is SOLD!

At the Frank Kenny Real Estate Team, we know that a promise is only as good as the end result. And the only result that ultimately matters is that your home gets sold — and sold for the right amount.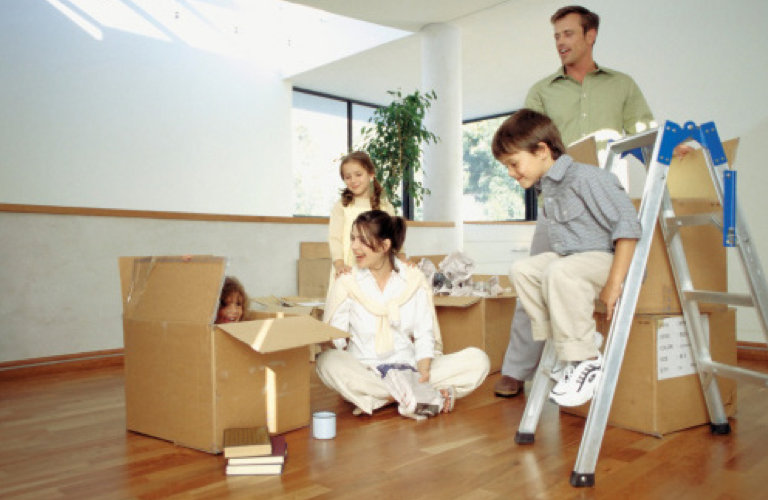 YOUR DREAMS AND
GOALS MATTER!
When things don't go as planned in the sale of a home, it can be easy for a seller to give up on the excitement to move that they once had. You may even be sitting there reading this thinking that it's best to throw the towel in and give up on the dream of selling, or to wait for an extended period "when the market is better," or to question whether or not to even work with a real estate agent.
Facts About Expired Listings
Nearly 15% to 25% of all listings do not sell. The market rejects them.
In other words, the market did not accept the Marketing Effort, the Price, the Condition, the Location, or a combination of these areas—perhaps all four of them! The good thing is that you control two of these areas: Price and Condition.
We control the Marketing Efforts… And that's a BIG PLUS for you!
Our Marketing Efforts
Staging and Pricing Strategies
Proactive For Sale Signs
Rider Signs
Directional Signs
Agent Calls to Top Agents
Neighborhood Calls

Multiple Listing Service Web Listings
Track Showings/Collect Feedback Weekly
Seller Updates Regularly
Over-The-Top communication with you!
Condition
A hundred dollar bill is a great metaphor: they all look good, but people will always choose the nice, clean, crisp one over a dirty wrinkled one. How does your house look to others? This is the crucial important difference between Showing condition and Living condition.
Price
Being overpriced is usually the reason a home did not sell, but the condition will help determine what the market is willing to pay. Remember that YOU control price and condition.
The wrong price attracts the wrong buyers. It creates a bad reputation for the house in the marketplace and makes properly priced homes look even better. Would anyone intentionally put their home on the market to help sell the competition?
Location
Nobody can do anything about their location except to accent the positives and minimize the negatives.
Testimonials about- Frank Kenny Real Estate Team


Even more good things the Frank Kenny Real Estate Team
Before you hire us to sell your property, ask some of our 2015-2016 clients about their experience with the Frank Kenny Real Estate Team.
Contact us for our Referral List!

Its all about putting the most money in your pocket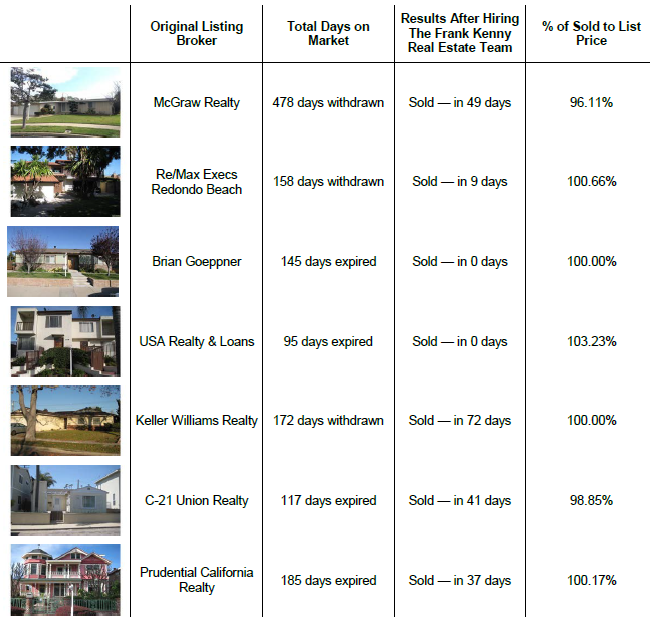 Until the house sells the rest is just lip service!

Here are a few of The Frank Kenny Real Estate Team's recent listing sales. For the most up-to-date information on our statistics and how we got homes sold, please give us a call at our office at 310-791-0123.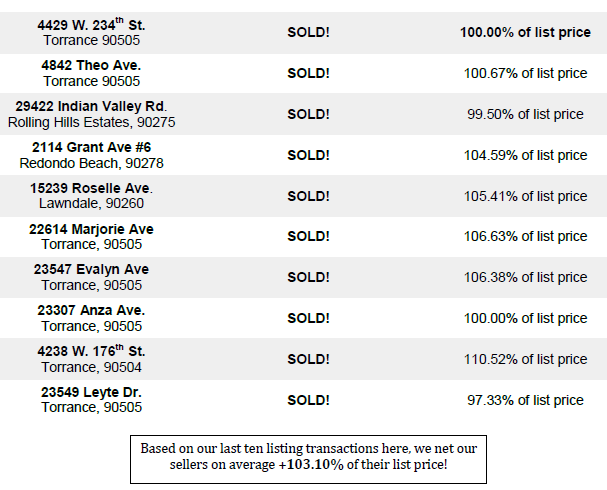 It's time for a new approach
Gone are the days when an agent could just put up a listing in the Multiple Listing Service and sit back and wait for another agent to sell the house to them. And if all it took to sell a house was simply putting it in the MLS, wouldn't everyone be selling their homes themselves? And by now, don't you owe yourself more than the status quo?


It's time for a new agent, new marketing, new buyers, and most of all… new possibilities. Ultimately, our goal is to sell your property for the most money possible, and in the process re-connect you with the excitement you originally felt upon first listing. And here are some of the ways we achieve this:
Pre-MLS Marketing –

Before we officially list your property for sale in the Multiple




A listing Service marketing campaign, we

'

ll begin a targeted pre-Multiple Listing Service campaign catered to specifically garner interest and traffic to your property prior to it hitting the market. Pre-market exposure includes property placement on the FrankKenny.com website for Search Engine Optimization, listing on our Frank Kenny Real Estate Team Facebook business page, proactive phone-calling the neighborhood daily, door-knocking, and more.
Premium Online Placement

– You may have heard of real estate syndicate websites like realtor.com, zillow.com, trulia.com and more. Your listing will be featured on all of these websites. We track the success of your listing through data analytics that we provide to you as part of your weekly seller updates.
Staging –

Feedback buyers often give of homes that don

'

t sell is that they couldn

'

t envision themselves living in it given the current owner

'

s choice of furnishings and any clutter or imperfections. According to US Housing and Urban Development, a staged home will sell, on average, 17% higher than a home that is not staged. The National Association of REALTORS

®

states that the average staging investment is between 1 and 3% of the home

'

s asking price and generates a return of 8 to 10%.
Dedicated Social Media Promotion –

At The Frank Kenny Real Estate Team, we have a full-time dedication to the online promotion and social media marketing of your property. We make sure your listing is in the eyes of as many potential buyers or friends of buyers as possible.
HD Video Marketing

–

We produce high-quality 1080p and 4K video marketing for your beautiful home and post to real estate websites, the multiple listing service, and social media to ensure that your listing gets the highest quality exposure that reaches the most people in an attractive and appealing presentation.
5-Star Response Time to Buyer Leads –

According to a study done by MIT, the odds of contacting a lead more than 5 minutes versus 30 minutes drops 100 times. From 5 to 10 minutes the odds decrease by 5 times. Is there any wonder why the average single agent misses so many opportunities to convert buyer leads for their sellers? At The Frank Kenny Real Estate Team, we have a dedicated inside sales team whose sole job is to respond to and convert buyer leads for your listing. The statistics are clear– the modern internet consumer moves fast and expects us to do the same.
Pro-Active Telephone Marketing –

Fewer and fewer real estate agents are skilled at the art of pro-active prospecting. A dirty little secret is that most agents fear rejection and that keeps them from picking up the phone and prospecting for their sellers. Agents like this rely on other agents working through the MLS to sell their listings for them. The Frank Kenny Real Estate Team works toward the rank of Master Salesperson and receives constant coaching that helps them overcome self-limiting behaviors. What all of that really means is that the Frank Kenny Real Estate Team doesn

't just sit back and passively wait for buyers for your listing to come to us, we fearlessly and proactively go find them.
Hire us in confdience!
Fire us at any time
EASY-EXIT LISTING AGREEMENT
As you undoubtedly are starting to see, whether or not your home gets sold depends heavily on the agent you choose to hire for the job. And choosing the wrong one can be extremely costly, as you may have noticed.
Knowing this, Frank Kenny's Real Estate Team proudly
offers a cancellation guarantee through our"Easy-Exit," NO-QUESTIONS-ASKED listing contract. Either you are completely happy with our services, or you can terminate the listing agreement.
One concern we hear from sellers who have been through a negative experience previously is that they don't want to be tied down into another lengthy listing contract with another agent. We think that makes complete sense. You could be locked into a situation for months with no recourse if things go awry.
There's no gimmick here… It's plain and simple, and most importantly, in writing.